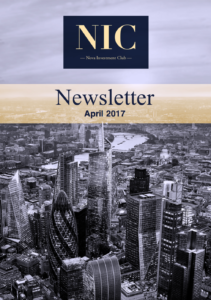 A message from the President:
"Dear readers of the NIC Newsletter,
NIC's April Newsletter is here! This month we come to you with a completely redesigned and restructured newsletter, which will be sent out to you every month, just like before. The reason behind this change is linked to the necessity we identified to revamp Nova Investment Club.
We invite you to take a look at it and delve deeper into the topics that interest you the most.
We all hope you enjoy it and thank you for subscribing!"


Luis Zaráte,
President of Nova Investment Club
This month on the Newsletter:
In our new Macro Overview section, Analysts from both divisions will cover broad macro themes while review major economics news from the past month. In our Deeper Dive section, Andrew Borts evaluates the status of the "Trump Trade", while Tomás Lameira discusses expectations for Eurozone recovery and reflation.
Our Investment Banking Division will guide you through upcoming M&A deals as well as reviewing past deals such as Snap Inc. ́s recent IPO. Additionally, they will provide updates on Netflix and Bayer AG who were featured in previous newsletters.
Our Financial Markets Division will present the new NIC Fund, an active relative return fund investing across four different asset classes: Equities, Fixed Income, Commodities and Currencies. In addition, the analysts will provide commentary on each of the four major asset classes through analysis of the past month ́s major market moves.
Finally, Sebastião Fernandes examines the state of the automobile industry and the rapid developments in the market for self-driving vehicles.