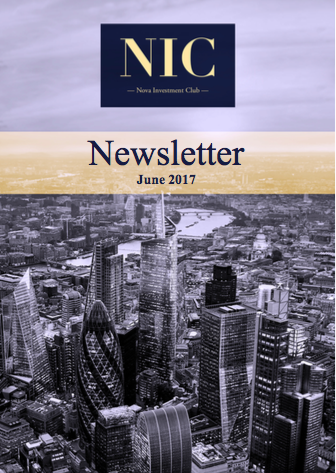 This Month:​
​
In our Macro Overview section, Analysts from both divisions will cover broad macro themes while review major economics news from the past month. In our Deeper Dive section, Patrick Pecher evaluates the US unemployment rate, while Manuel Gonçalves discusses the current state of the Swiss economy.​
​
Our Investment Banking Division will guide you through May's M&A overall activity. Moreover, read about Atlantia's bid for Abertis Infraestruturas, Sinclar Broadcast Group's bid for Tribune Media Company and Praxair and Linde's confirmed merge deal.. Additionally, read a detailed overview on the what happened to both Alibaba and Adidas. Lastly, get an insight on Spotify's possible unorthodox listing in the NYSE, written by our analyst Diogo Góis..​
​
Our Financial Markets Division will present the monthly results of the NIC Fund, an active relative return fund investing across four different asset classes: Equities, Fixed Income, Commodities and Currencies. In addition, the analysts will provide commentary on each of the four major asset classes through analysis of the past month´s major market moves.​
​
Lastly, Luis Zarate examines the metamorphosis of the startups scene and specially the disruption of the banking industry in Latin America. He will explain why now is the best time to be involved with the Latin American startups.