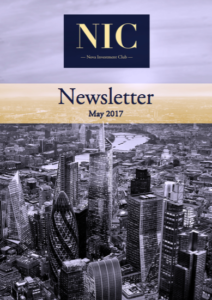 May's Newsletter is here!
Do not miss this month's detailed analysis on the Tyson Foods' bid for AdvancePierre, JAB Holdings Company's bid for Panera Bread and Rockwell Collins' bid for B/E Aerospace.
Take a look at how our Financial Markets' analysts monthly results on the NIC Fund, an active relative return fund investing across four different asset classes.
Also on this month's newsletter, our IBD analyst Bernardo Sousa Machado examines China's increasingly more important role in the world, as well as how it achieved the status of a "great power".
Lastly, Lourenço Alves Pereira had the opportunity to interview Pedro Carvalho, a seasoned professional who has worked at Goldman Sachs, McKinsey and Apollo Global Management.